CHICAGO — This weekend, the city is kicking off fall with Oktoberfest celebrations, street markets, art exhibitions and more.
Here's a roundup of 22 things to do across Chicago this weekend:
10 a.m.-5 p.m. Saturday-Sunday
1341 W. Randolph St.
Chicago's European-style antique and vintage market is returning after a two-year hiatus. There will be live music, food, libations and a treasure hunt. Tickets are $10 for general admission online and are $15 at the door.
9 am-noon Saturday
Meet at the lobby of the McKeon Student Services Building, 1145 W. Wilson Ave.
Truman College is partnering with Divvy to provide free bike rentals for a 6-mile ride. The ride lasts about two hours and will be followed by lunch and live music 11 am-noon.
The event is free and open to the public, but you must register in advance on-line. Attendees must be 17 or older or accompanied by an adult.
2-7 p.m. Sunday
1500-1508 W. Jarvis Ave.
There will be live music, beer, dancing and a brat toss competition. A $5 entry fee will help raise funds for A Just Harvest, a community organization fighting poverty and hunger in Rogers Park and the greater Chicago community.
1 p.m. Saturday
Chicago's Finest Marina, 557 E. 134th Place
The Jan and Aagje Ton Farm was the first Underground Railroad site in Chicago to be recognized by the National Park Service's Network to Freedom project. The farm once provided a safe harbor to people who had been enslaved but escaped to freedom. Now, its history will be honored with a sign unveiling and dedication ceremony.
Attendance is free. People can learn about the history of the site.
3-8 p.m. Saturday
4356 N.Milwaukee Ave.
There will be a records fair, live bands, DJs, booze, food and more at Tone Deaf's third anniversary party.
8 p.m. Saturday-2 a.m. Sunday
2105 S. State St.
This pop-up underground art show returns to the city this weekend. There will be more than 100 local artists exhibiting their work, free pancakes, live DJs and more. Tickets are $15 for general admission on-line or at the door.
4-6 pm Saturday-Sunday
Southern entrance to Wooded Island near Hayes and Cornell drives
In Place: Drawing You Outside is a collaboration between Hyde Park-based dance artist Irene Hsiao and South Loop-based visual artist Christine Forni. Attendees will create artwork, and there will be dancers and musicians. The event is free. Register on-line.
5-8 pm Friday and noon-8 pm Saturday
Various locations across West Town. See the map on-line.
The West Town Art Walk is organized by the neighborhood's Chamber of Commerce to celebrate local businesses and highlight Chicago artists. The event is free to attend.
Varying times and locations starting Thursday. click here for more information.
Reeling: The Chicago LGBTQ+ International Film Festival is the second longest-running film festival of its kind, showcasing a variety of LGBTQ+ films and videos since the year in theaters and via online streaming. You can buy passes starting at $55 for five screenings on-line.
11 a.m. and 2 p.m. Saturday
The Walnut Room, 111 N. State St.
This Taylor Swift drag brunch stars Lucy Stoole, Ziggy Banks and Platinum Carrington. Tickets are available on-line for $20, and all guests must buy an entree.
Noon-4 pm Saturday
3000 W. Fullerton Ave.
This marks the final pop-up market of the summer series, filled with small business vendors, pizza and drinks. Tickets for this family-friendly event are free and available on-line.
6-10 p.m. Thursday
Shedd Aquarium
Listen to house music with a view of the skyline and Lake Michigan. There will be local DJs, and food and drinks available for purchase. Tickets are available on-line and start at $14.95 for Shedd members and $39.95 for Chicago residents. You must be at least 21 years old and have a valid photo ID to attend.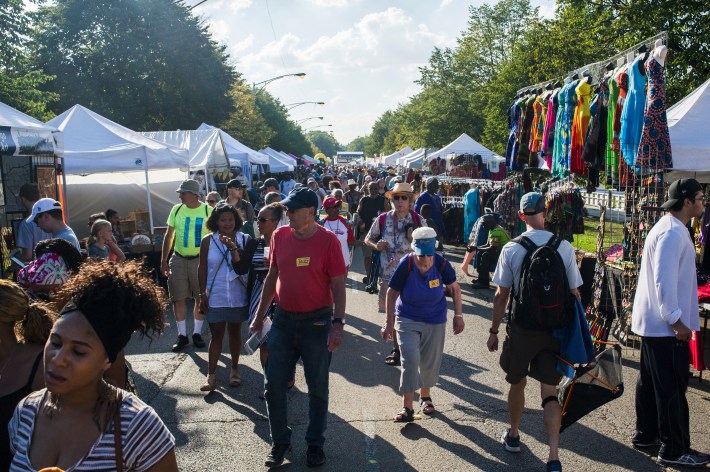 Varying times and locations Saturday and Sunday. See the full schedule on-line.
The Hyde Park Jazz Festival is back for its 16th edition to support jazz, particularly on the South Side. Admission is free with a $10 suggested donation.
11 a.m.-10 p.m. Friday-Sunday
The Northman Riverwalk, 233 E. Riverwalk
This is the second edition of a three-weekend series at the Northman Riverwalk. There will be live music, sausage, cider, pretzels, beer and more.
2-9 p.m. Saturday
El Paseo Community Garden, 944 W. 21st St.
The 13th annual Harvest Festival will have family fun, live music, dancing, wellness programs, raffles and more. Enjoy the block party while helping raise money for the El Paseo Community Garden. Admission is free and you can register on-line.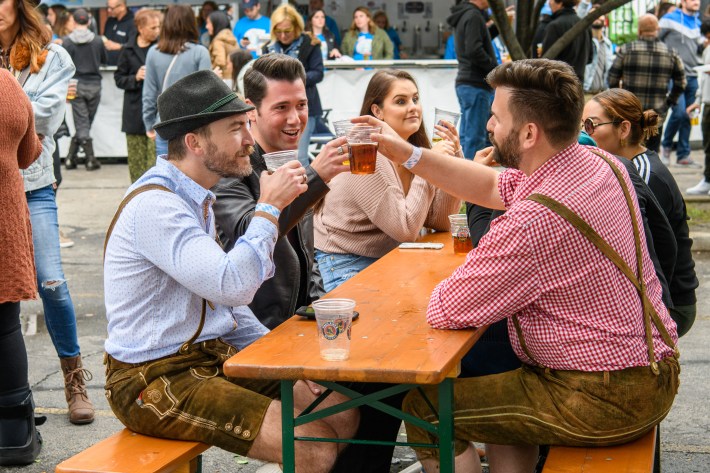 5-10 pm Friday, noon-10 pm Saturday and noon-7 pm Sunday
Area surrounding St. Alphonsus Church, 1429 W. Wellington Ave.
St. Alphonsus Church, a Lakeview-based parish founded by German immigrants in 1882, is holding its 20th annual Oktoberfest this weekend, bringing Bavarian foods, craft beer tasting and polka bands to the neighborhood. Admission is $10.
Noon-4 pm Sunday
Christy Webber Farm and Garden, 2833 W. Chicago Ave.
This annual event is back after a two-year hiatus with a straw maze, scarecrow-stuffing, pumpkin art, fall flower crowns and more. This family-friendly fest will also have live music, beer and a Lola's food truck.
7-11 p.m. Friday
SPIN, 344 N. State St.
Artists will have 20 minutes to paint canvases, battling each other and the clocks. All artwork created will also be available via silent auction. You must be at least 21 to attend and have a valid photo ID. Tickets are available for $22 online and $25 at the door.
5 p.m. Saturday
Old Irving Brewing Co., 4419 W. Montrose Ave.
Old Irving Brewing Co. is celebrating its sixth anniversary and Oktoberfest with German food, music and drinks.
2-6 p.m. Saturday
LaBagh Woods, 5275 N. Cicero Ave.
A beer and nature festival is coming to LaBagh Woods, with more than 40 local breweries and cideries, guided walks, nature-inspired music, food and more. Tickets starting at $15 for non-drinkers are available on-line.
Listen to "It's All Good: A Block Club Chicago Podcast":
Listen to "It's All Good: A Block Club Chicago Podcast":