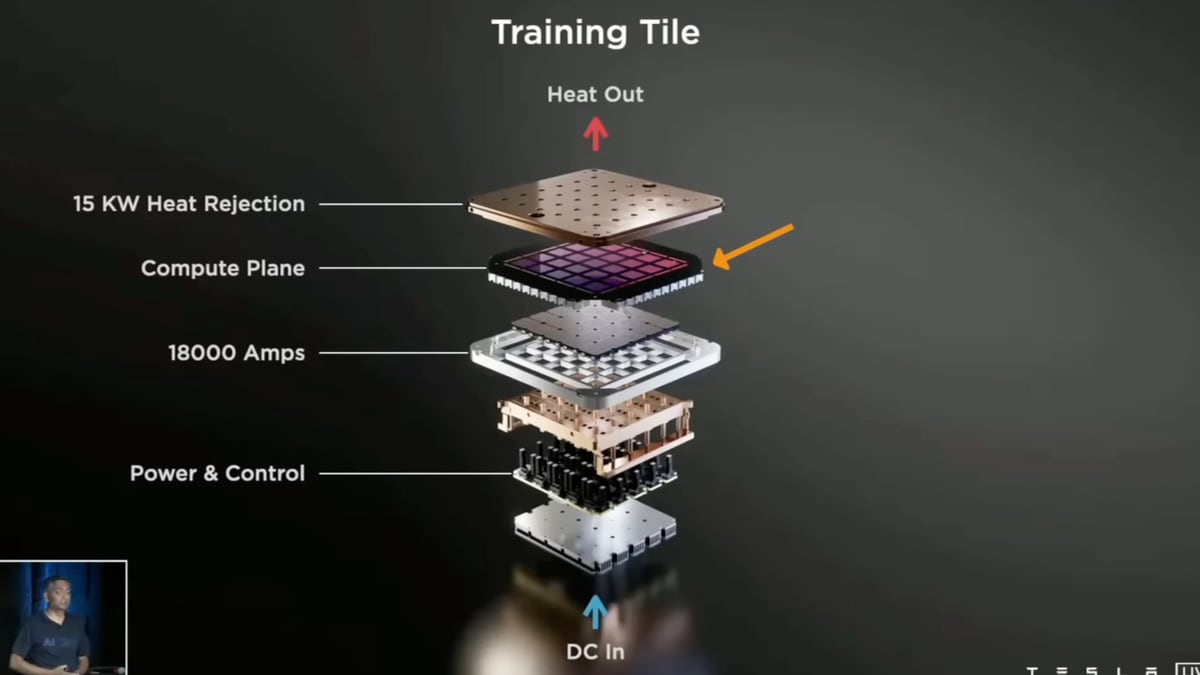 Tesla participated in Hot Chips 34 and shared a ton of mind-boggling information about their Dojo supercomputer and chip architecture.
The details shared about Dojo in Hot Chips 34 by Tesla's Emil Talpes, who worked at AMD for about 17 years for Opteron processors, are only about the hardware and capabilities of the tiles and Dojo as a whole. The performance will be discussed at Tesla's AI Day II on September 30th.
The goal with Dojo is, according to Musk, "to be really good at video training. We have probably the fourth or approaching the third most powerful computing center in the world for AI training. Our first goal with Dojo is to make it competitive and be more effective and neural net training than a whole bunch of GPUs."
Since Tesla needs a lot of computing power to process the video data from the vehicles in its fleet, it has built a proprietary system-on-wafer solution. According to ServeTheHome, "Each D1 die is integrated onto a tile with 25 dies at 15kW. Beyond the 25 D1 dies, there are also 40 smaller I/O dies."
All of the power and cooling is integrated directly on the Training Tile, which is capable of 10 TB/s on-tile bisection bandwidth and 36 TB/s off-tile aggregate bandwidth. This architecture allows for the tiles to be scaled with 9TB/s links between them. They can also be plugged in and do not require their own server.
"The defining goal of our application is scalability," Talpes said at the end of the presentation. "We have de-emphasized several mechanisms that you find in typical CPUs, like coherency, virtual memory, and global lookup directories just because these mechanisms do not scale very well when we scale up to a very large system. Instead, we have relied on a very fast and very distributed SRAM storage throughout the mesh. And this is backed by an order of magnitude higher speed of interconnect than what you find in a typical distributed system."
The inside look into what Tesla's building behind the scenes continues to prove how and why Tesla is at the forefront in artificial intelligence and neural net training. It gives the Tesla community an added sense of comfort knowing that Tesla will always have scalability and innovative technology at the forefront of everything the automotive company does.
Watch Anastasi In Tech's Recap of Tesla's Hot Chip 34 Presentation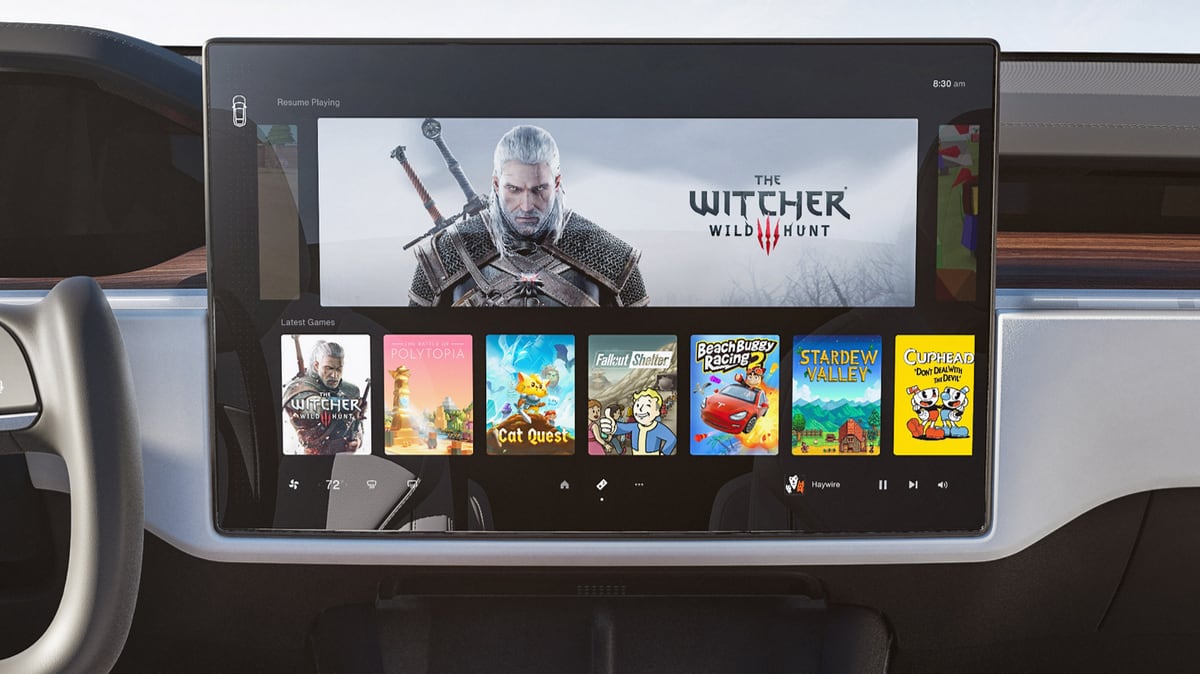 Elon Musk is a busy guy, but he even takes time to play video games. The Tesla CEO told his 105.6 million followers of him on Twitter that he was playing games. But when you're Musk, this is still working. He was testing the highly anticipated Steam integration with Tesla. It's not known which one of the 30,000 Steam games he was playing (or should I say testing), but the fact that he is telling the world he is trying it out could mean the release is imminent.
Steam is to the PC gaming world what Tesla is to the electric vehicle market. With nearly 20 years under its belt, it's estimated Steam takes up 75 percent of the global market share for the distribution of PC games. More than 100 million users are on the platform, and it is showing no signs of slowing down. In addition, it is releasing Steam Decks, a mobile device to take all of those games with you.
Tesla's gaming does not quite compare to Steam, with about 20 games available, and most are classics. However, this integration could put Tesla's gaming platform light years ahead. In fact, the new Model S and Model X have a gaming computer that keeps pace with PlayStation 5 and XBox Series X.
The new system has ten teraflops of processing power. A teraflop is the computer world's version of horsepower, and yes, 10 is a lot. The PS5 has 10.28, and for those keeping score, the Playstation 4 has 1.84. For anyone who has played the two consoles, you can attest to noticing immediately the difference those additional 8 TFLOPS provide.
Musk wants the Tesla to be the most fun you can have in a car. By adding this kind of computer power to the Model S and Model X, he ensures that the system can handle the top-end video games. He has demonstrated the game considered the most graphically demanding, Cyberpunk 2077. These complex and visually stunning video games also occupy a lot of space. The average Steam user has 55 games on their account. However, it looks like Tesla has already started to solve these problems.
With Tesla update 2022.24 tesla now lets you uninstall games from Tesla Arcade. There's currently no need to uninstall a game because there's ample storage, but that won't always be the case.
Tesla has also started adding code to support external storage that could be used to load additional games.
The amount of storage available for games will vary depending on the MCU in the vehicle. While vehicles with MCU 2 only contain a 64GB hard drive for the entire vehicle (OS, games and data), newer vehicles with MCU 3 include up to a 256GB solid-state drive. Out of those 256GB, 155GB is currently reserved for games, so they'll be able to store significantly more games before requiring an external hard drive.
While there is still no release date for the Steam integration, a big event is on the horizon for Tesla, AI Day Part II. The event was initially scheduled for August 19 but has been pushed back to September 30. Musk has promised "many cool updates"at AI Day; perhaps Steam integration will be one of them.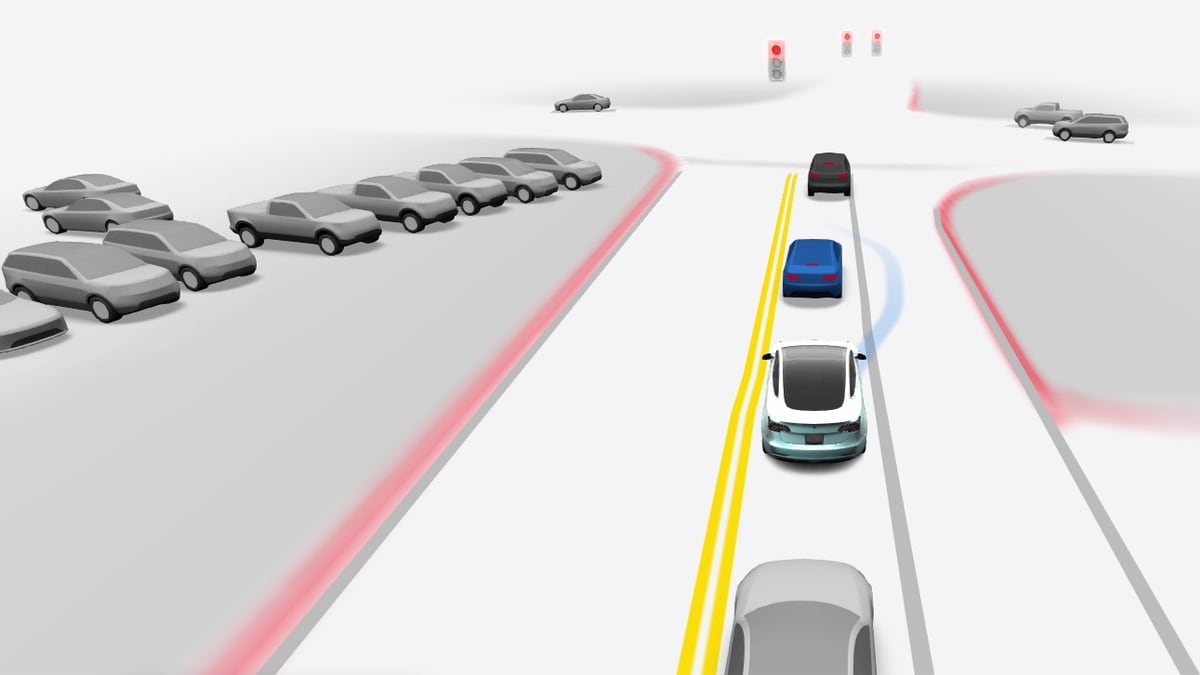 Elon Musk says that a FSD Beta update with "additional polish" is coming out in a few days.
Musk took to Twitter to announce that "10.69.2.1 [is] coming out in a few days with additional polish. 10.69.3 comes out shortly after AI Day."
Additionally, Tesla will expand its beta program to additional users who have achieved a Safety Score of 80 or higher once version 10.69.2.1 is released.
FSD Beta 10.69.2.1 comes roughly one week after they rolled out version 10.69.2 to its 100,000 beta testers. Musk did not clarify how long after the update goes out will Tesla expand it to additional testers, but it could be in the next couple weeks..
Beta expanding to safety scores above 80 after 10.69.2.1 goes out

— Elon Musk (@elonmusk) September 15, 2022
Version 10.69.3, Musk says, will be released "shortly after" AI Day, but it's not clear what improvements it will bring.
Tesla's second AI Day is slated for September 30th and will feature "many cool updates," according to Musk. During the event, the automotive company is expected to share details about Full Self-Driving Betatheir new self-driving chip and the dojo supercomputerand hopefully updates on its Robotaxi program and FSD HW4.
There's a chance that Tesla may also talk about its recent work on Steam gaming integration in its vehicles.
Finally, and perhaps the most exciting part, Tesla is expected to show off a working prototype of its Tesla bot known as Optimus.
You can watch Tesla's first AI Day event from last year below.
.